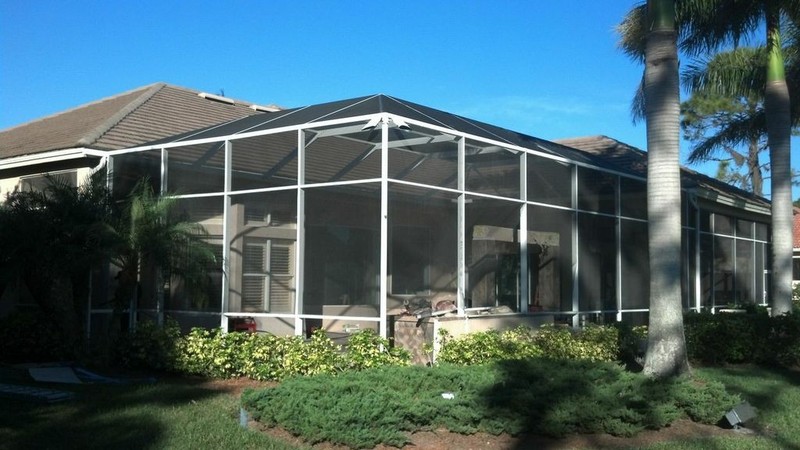 Have you been thinking about the hurricane season? Why not take a look-see and check your lanai screens. Question is…Will your old, weathered lanai screens hold up to the ravages of  our summer storms ? Is it time to replace some of the panels screen before they take a hit ?  Gulf Gate Rescreening expert shares some hints that may save you some headaches down the road..
The best time to replace your screen is when the black coating wares off the screen and exposes the fiberglass yarn. This will make your screen have a siverish tint (you will see fiberglass threads shining in the sun) as well as ripping through the seams and small holes showing up more. Small creatures as squirrels could fall down through your old pool screen.  Also the spline (the rubber that holds the screen in the aluminum) coming lose from the screen enclosure.
It's really important to be sure of the safety of your aluminum enclosure as well.
Checking up for rusted anchors (bolts that hold the bottom aluminum to the concrete) even if you see the anchor head, the anchor body could be deteriorated under the aluminum. Try moving the bottom aluminum with your feet, it needs to be completely tight to the ground.
Bracing cables or tie down cables. These are the cables attached usually to the corner of the pool enclosure to the ground. It has the important job of hold the enclosure in place in a wind storm. New code requires a tie down cable with a triangle type bracket.
Prices vary on pool enclosures depending on the features you are interested in. You can spend as little as a few thousand dollars to tens of thousands of dollars. They are a long lasting investment in your home that will likely pay for itself in just a few seasons. Many homeowners also claim the pool enclosure increased the value of their home significantly and they were able to recoup the total cost of the enclosure when they sold their homes.
Service Area:
– Sarasota Fl
– Venice Fl
– Bradenton Fl
– Lakewood Ranch Fl
We can be reached during the following hours: 
Contact us to request an estimate on the screen repair or installation services you need.